Do SSL certificates affect search rankings?
This is a question most website owners and online entrepreneurs struggle with almost all the time.
Why?
This whole thing came about when Google announced that they will be favoring 'secure' websites over the 'insecure' ones.
What does that mean?
In their own words;
"… over the past few months, we've been running tests taking into account whether sites use secure, encrypted connections as a signal in our search ranking algorithms. We've seen positive results, so we're starting to use HTTPS as a ranking signal."
[source: Google Blog]
That was back in 2014. And since then, the search engine has implemented this into their ranking algorithm.
What this simply means is that Google will start showing more HTTPS pages on their search engine results pages (SERP) and demoting HTTP.
In theory, if your entire website is running HTTP protocol, you will be ranking lower than other sites operating HTTPS.
Question is, is this true?
As always, the internet went nuts, but the likes of Brian Dean, an SEO expert, and SimilarWeb, MarketMuse, Ahrefs, and SEMRush came together to gather the necessary data.
They were trying to find the correlation between higher rankings and having HTTPS protocol installed on your website.
And the results were shocking.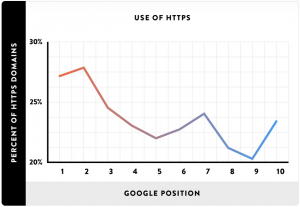 Their findings?
He discovered that having HTTPS protocol 'moderately' correlated with achieving a top listing on SERP.
While the whole SEO and SSL thing is shrouded in mystery, there is one thing very clear;
Having a secure website affects your brand image and recognition.
In fact, 85% of online shoppers avoid unsecured websites.
This means that if you have an online store and still running on HTTP, you are losing over 80% of sales.
Why have an SSL installed?
After Google made the announcement, Chrome started shaming those sites without an SSL.

And by doing so, the browser is scaring off visitors from accessing your website. In the process, you lose the traffic that might have resulted in sales.
For this reason, having an SSL installed on your site increases the trust level.
For example;
You need to secure your website if you are asking users to provide personal information; things like;
Email addresses and names

Credit card information

Location data
SSL helps encrypt the transfer of this information between web servers and browsers.
What SSL Certificate Should You Buy?
Do SSL certificates affect the search rankings question has been answered. 
That, yes, you need an SSL certificate to improve your chances of ranking higher on Google SERP.
The question is; what SSL certificate is best for you?
There are different types of SSL certificates you can choose from depending on your needs;
Domain validation (DV) SSL certificate – this is a type SSL where the CA verifies the ownership of the domain. It is perfect for businesses and blogs needing low-cost SSL quickly and without the effort of submitting company documents.

Organizational Validation (OV) certificate – Here, the applicant not only proves control of a domain name but also provides additional information to the CA. OV is highly recommended for online businesses that involve collecting highly sensitive information from users.

Extended validation certificates – here, the CA checks the right of the applicant to use a specific domain name plus, it conducts a careful vetting of the organization. Perfect for big companies

Single-domain for securing only one domain

Wildcard SSL certificates for securing multiple subdomains

Multi-domain – for securing more than one domain
Learn more here about what SSL to buy.