What is website security?
Why is it important to secure websites?
And finally, how can you be safe online?
In this article, you are going to get answers to these and other questions concerning website security.
All I ask is you to stick around because I have a surprise gift for you.
What do you mean by website security?
This what website security means.
It is any measure you implement on your website to protect data from unauthorized access by cybercriminals or any other malicious users.
To do that, you incorporate tools and systems that encrypt communications between your site and its users.
How does website security work? 
Essentially, a website communicates with two parties.
Webserver

Users
Here is a how it looks like theoretically;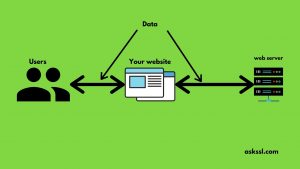 A user requests information from a website, and the site sends a request to the servers.
And data flows back to the users through the website.
Here is a problem;
A malicious hacker can interfere with the flow of the data either between the website and server or between the site and the user.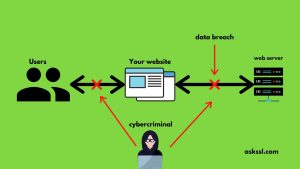 Either way, the user may end up with altered information.
For example;
A hacker may lay hands on the site and steal user's personal information.
Or, the criminal may alter information send from the server to the website.
Again, either way, there is a breach of security.
This is where website security measures come in handy.
To minimize the chances of this happening, you have to implement some website security measures. And we will talk about them in this guide.
What is the purpose of Web security?
Website security has a single and most important purpose; to keep away unauthorized users from accessing data.
Why is this important?
Protects your business reputation and shield you from losses. You don't want to be the guy who leaked customers' personal information like passwords online.

Setting up website security measures is cheaper than the aftermath costs.

So your website is not blacklisted by Google and other search engines.

Implementing sound measures helps to keep the bad guys away.
What is the best website security?
The best way to ensure your site is secure is to install an SSL certificate (Secure Socket Layer).
What it does is perform encryption of communication between your site and the web server.
This shields the data from unwanted access.
Click here to check out some of the best SSL certificates you can use.
Thing is, small blogs, corporate websites, and big organizations should use different measures.
Why?
Because they face unequal threats and the costs vary.
Other measures include;
Conducting sites scanning often for malware. Also, help unearth website vulnerabilities and other performance issues.

Blocking traffic from suspicious website visitors

Only log into a trustworthy internet network like the office or home.

Don't mess with website code unless you know what you are doing.

Personal protection; avoid clicking on suspicious links. They may lead to malicious websites that install backdoors on your computer
Here is an article taking you through some of the best software and tools used by website owners like you can use to check your site's security.